Gigi Hadid's fashion game is stronger than the Great Wall of China: unbreakable and always on point.
Gigi Hadid is one of the brightest stars of our time. The model boasts excellent taste in clothes, and each of her appearances leaves a long-lasting impression on both fans and fashion critics. Here are 10 of the celebrity's most striking looks, from a gold jumpsuit to a cyborg outfit.
Met Gala, 2021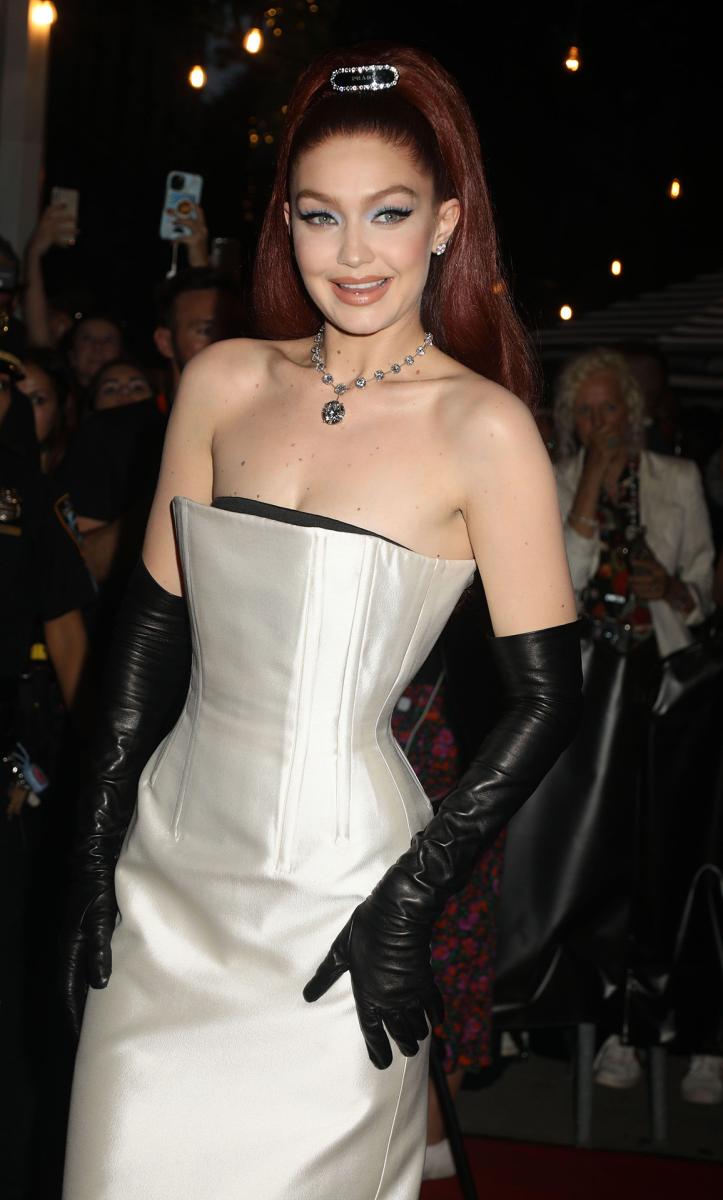 It seems that, when choosing her outfit for the 2021 Costume Institute Gala, the model found it too hard to decide whether she was on the "neat and elegant" or the "bold and provocative" side. Her formal white dress, which is the core of her look, was paired with a red wig, bright makeup to accentuate Hadid's eyes, high leather gloves, and pointed-toe heels. The resulting look was both bold and spectacular. Bravo!
Met Gala, 2018
The 2018 dress made Gigi Hadid look like a magical fairy. Adorned with scattered sequins and butterfly-themed patterning, the outfit made the model look especially tender and delicate — and her beautiful face appeared even sweeter against the lavish background.
WSJ. Magazine's Innovator Awards, 2019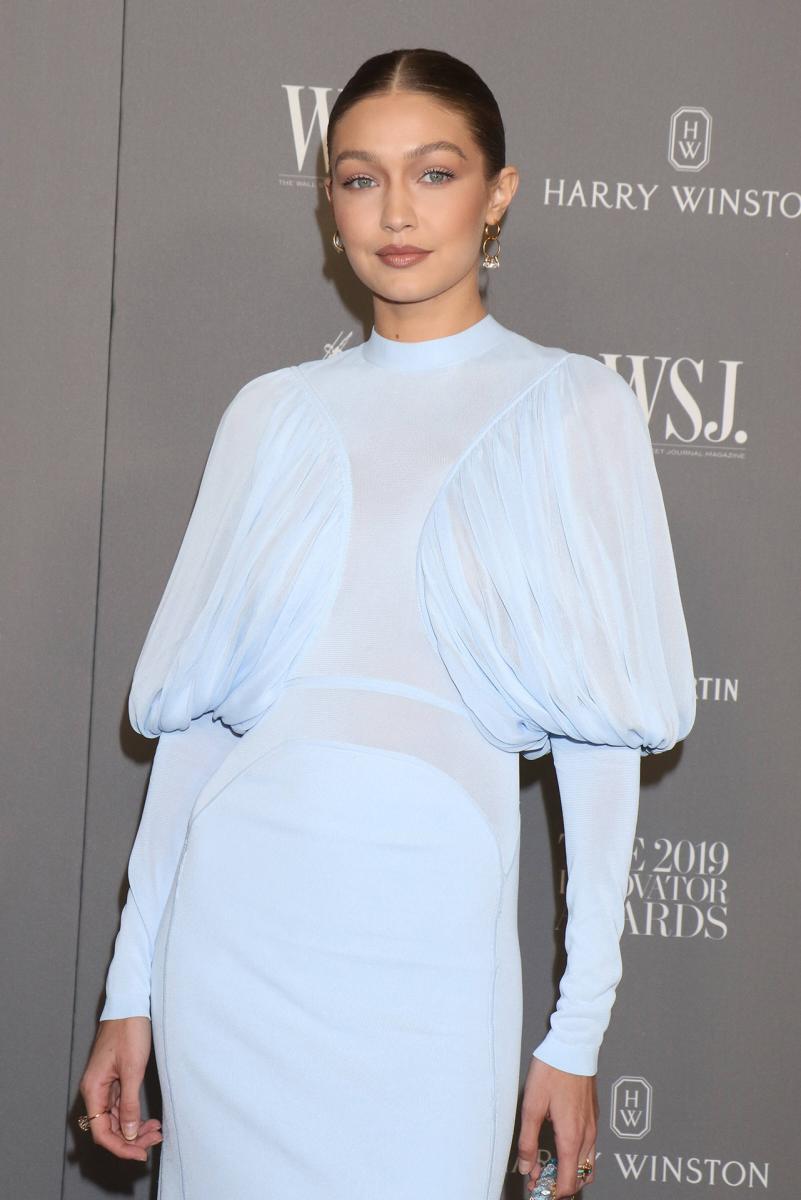 Blue is one of the model's favorite colors — and for a good reason, because it's a perfect match to Hadid's eyes and cute looks. Here, the dress' thin flowing material, intricate draperies, and the wavy skirt are counterbalanced with the model's simple low ponytail, natural makeup, and elegant pumps. The star achieved the maximum harmony in style, and her look doesn't appear overloaded with details.
The Fashion Awards, 2016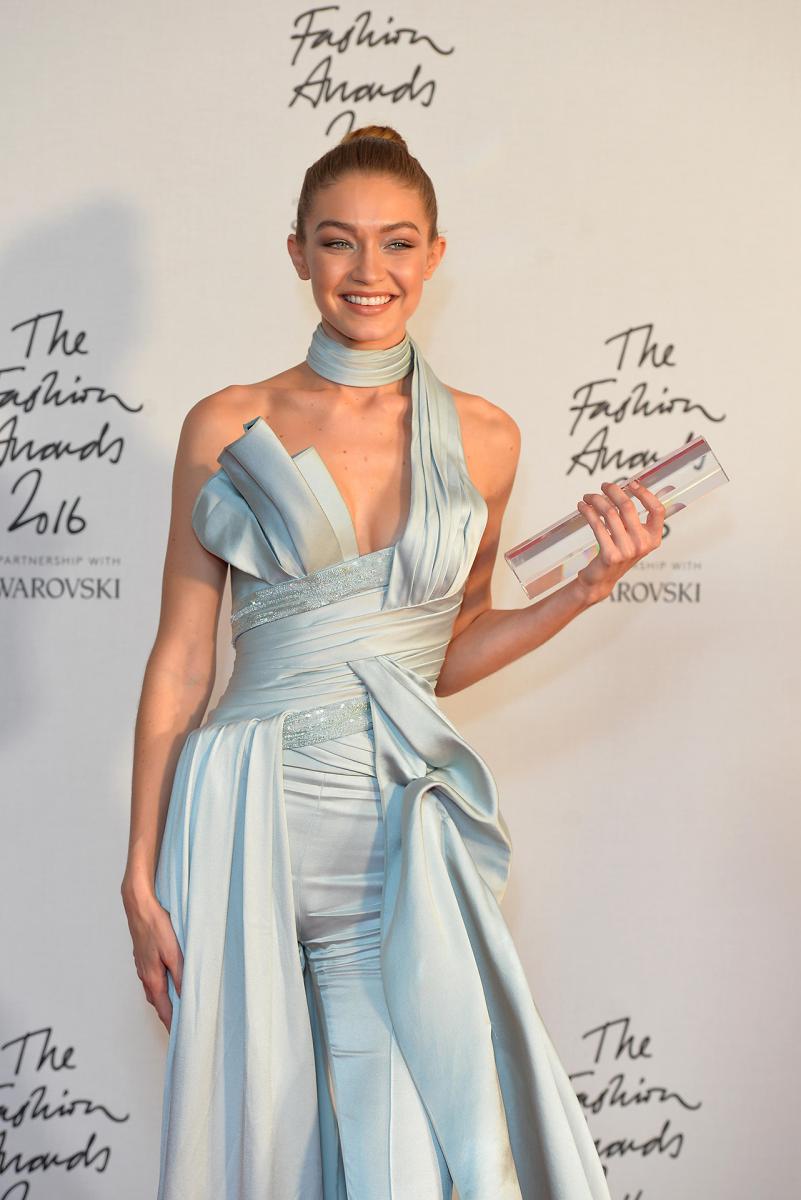 Abundant drapery, asymmetry, accentuated waistline, and a long train — this 2016 outfit is very complex, but overall, Hadid's look doesn't feel overwhelming. It's the dominant silver shade and the model's simple makeup and hairdo that soften the controversial combination and make it infinitely elegant.
Pirelli Calendar Presentation, 2018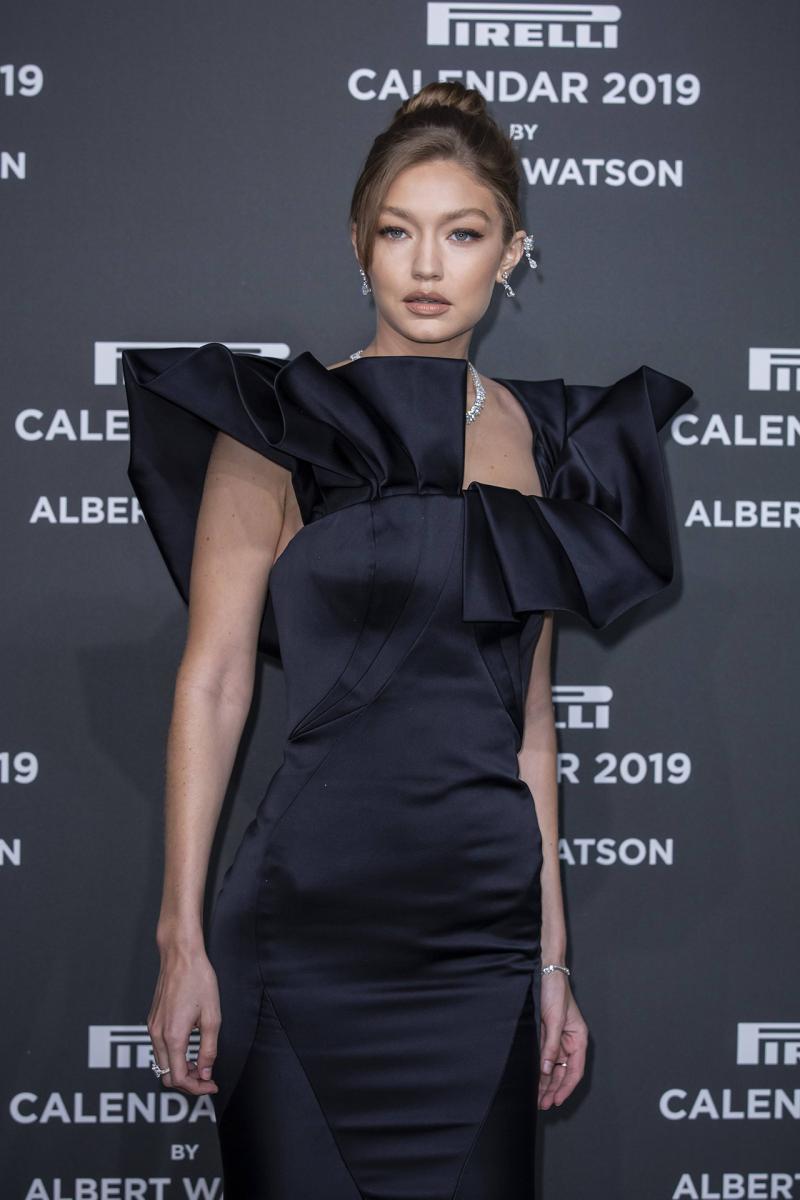 In this 2018 dress, Gigi Hadid looks like a real queen. The gloss and smoothness of silk, tight silhouette, massive decoration in the shoulder area, and the mermaid skirt — all these stylish elements make the model look strong and confident.
Maybelline New York Beauty Bash, 2016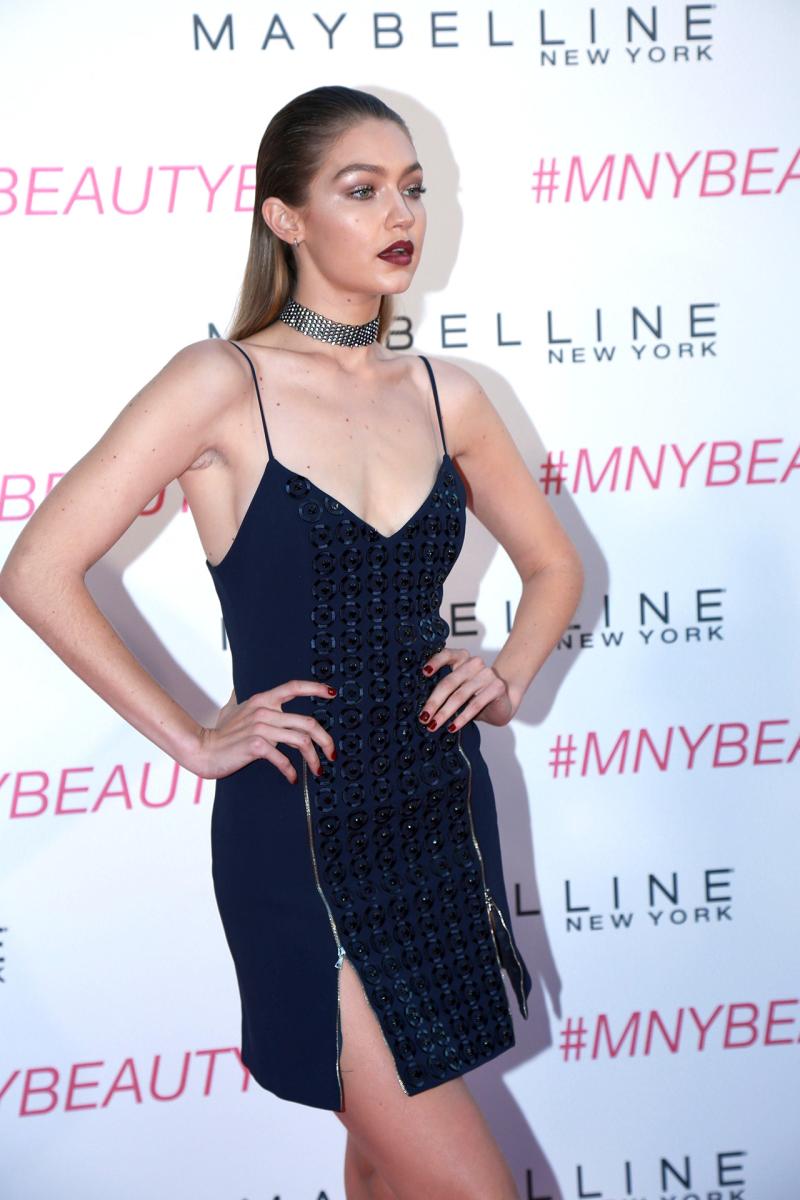 Gigi Hadid has amazing legs and can absolutely afford wearing a mini. This combo dress looks wonderful on the fashionista: the two piquant cutouts on the sides emphasize the model's defiant style.
Met Gala, 2016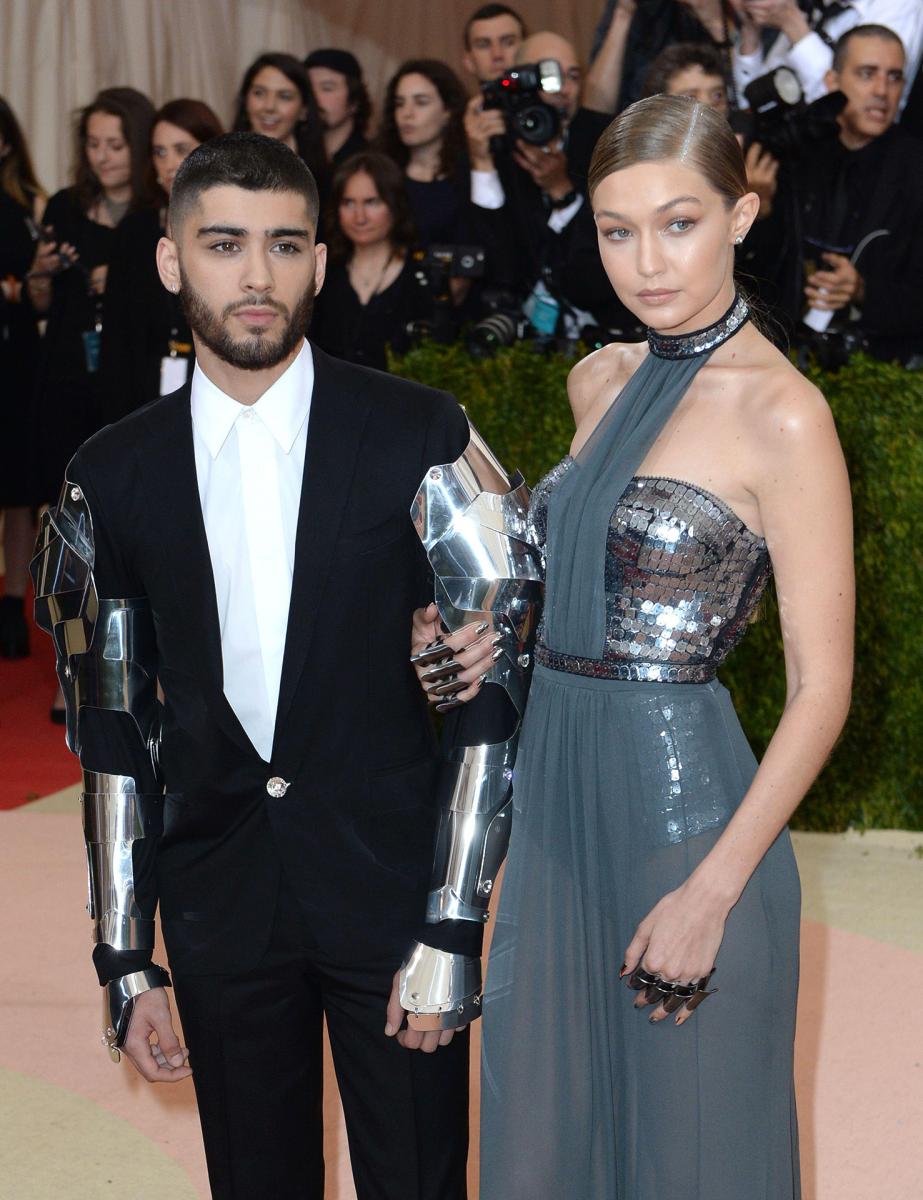 For the 2016 Met Gala, Gigi Hadid and her partner Zayn Malik wore high-tech outfits — looking very original and convincing as cyborgs. We loved it!
CFDA Fashion Awards, 2015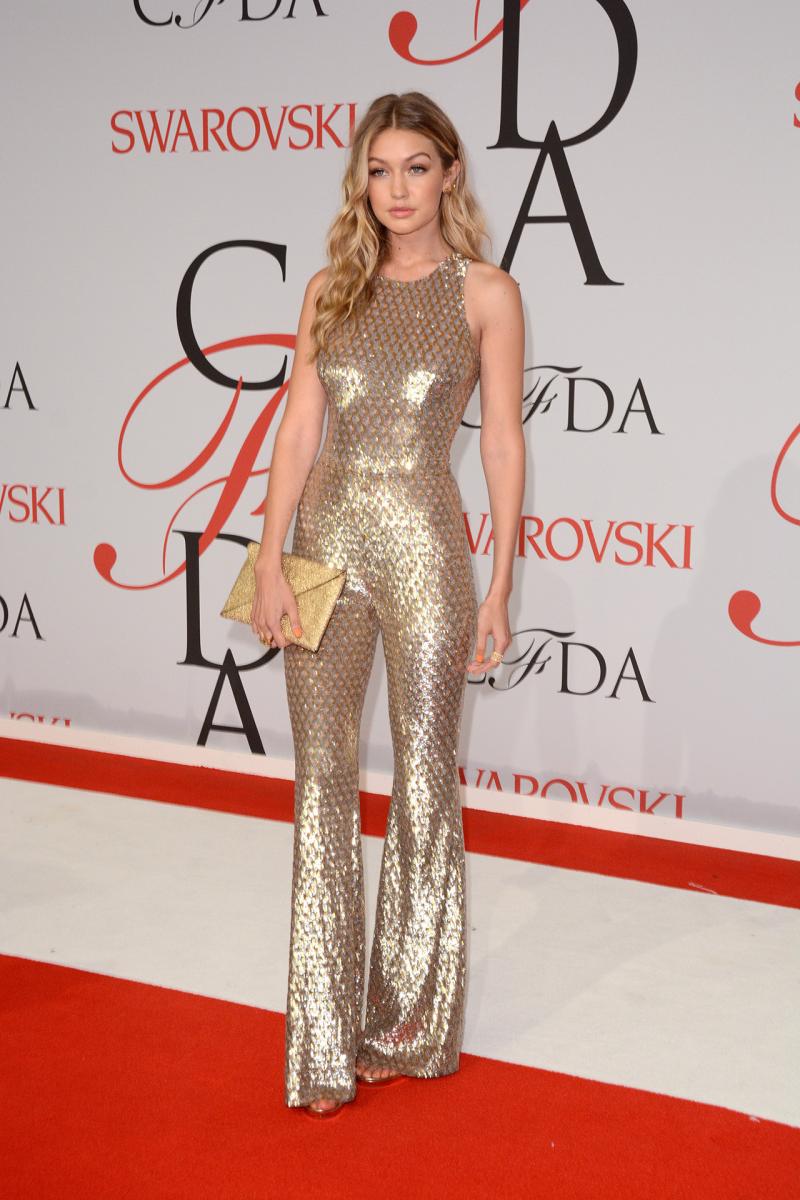 Here's how the model can make her stunning legs look even longer: wear a waist-tight jumpsuit with long flared pants. When these elements are combined, Hadid's silhouette appears elongated and more expressively feminine. The gold sequins harmonize perfectly with the model's olive skin tone and blond wavy hair, and that's certainly one of Hadid's golden looks.
Victoria's Secret Fashion Show After-Party, 2018
This is one of Hadid's sexiest looks — every curve of her body is spotlighted in this white fitted jumpsuit.