How one outfit broke all the rules and became a fashion legend.
The swan is a symbol that's not uncommon in art — take, for example, Swan Lake or ancient Greek myths. According to one of them, Zeus admired Leda and was blinded by her beauty. The god seduced the princess as she was disguised as the graceful white bird, and she bore Helen and Polydeuces, children of Zeus.
The legend inspired fashion designers of the 20th century, and in 1935, Marlene Dietrich appeared at a costume ball wearing a white silk dress trimmed with birds' feathers.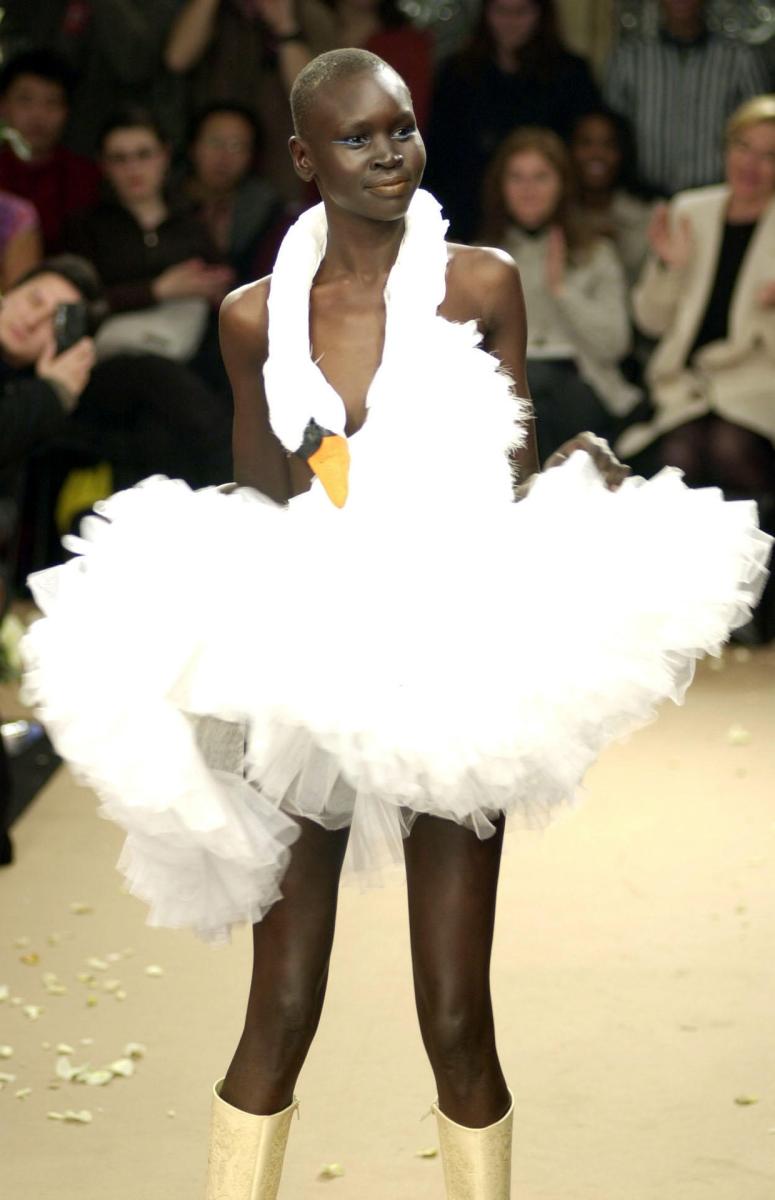 In the following 70 years, couturiers had turned to and recycled many symbolic images, but everyone seemed to have forgotten about the iconic actress' swan look.
After this long hiatus, Givenchy presented the first bird dress in 1997 — but it was a black one. Next, Marjan Pejoski dared to recreate a white swan dress for his 2001 fall collection, and that gown was Björk's favorite.
White For a Debutante
Björk chose a white mini dress with a swan around her neck for a reason: the 2001 Academy Awards were her first ever. This may be surprising because Björk was already well-known at the time, but only for her music. She came to prominence in the world of cinema after she starred in Lars von Trier's Dancer in the Dark.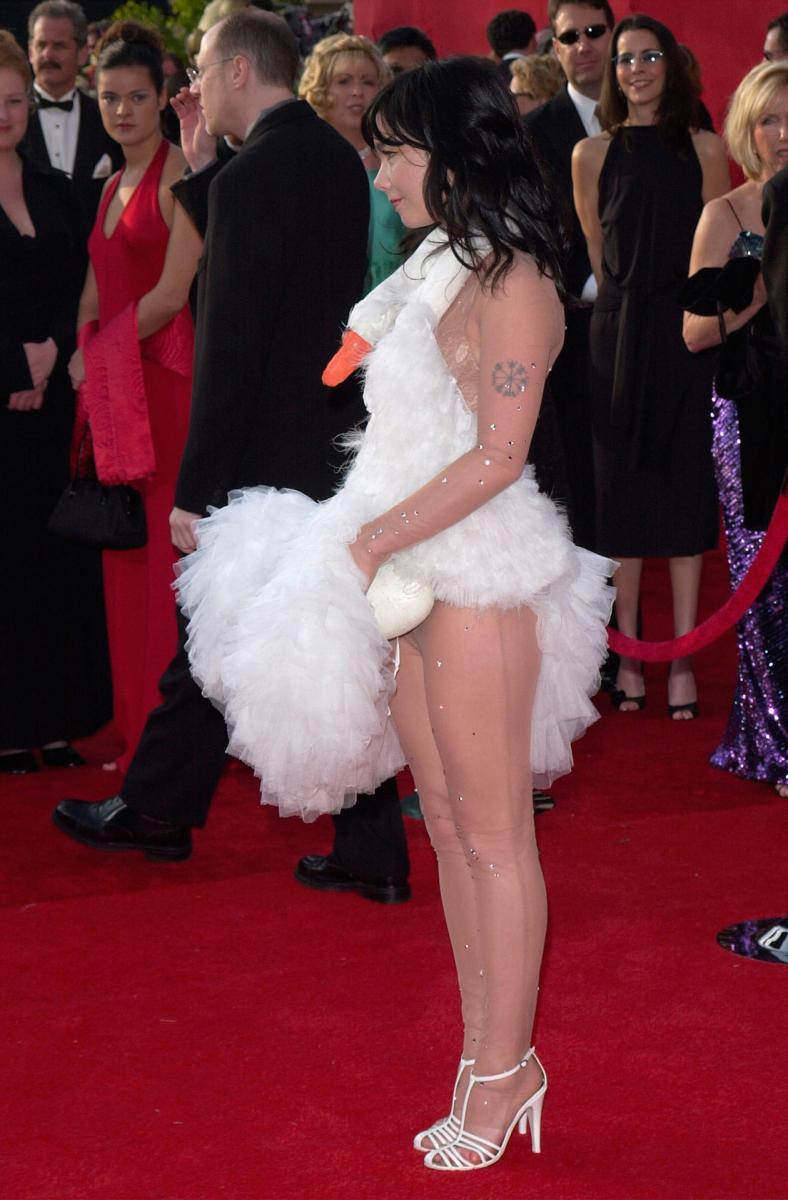 The artist also recorded the soundtrack for the movie, and that's how she got nominated for an Oscar. Björk gave a special meaning to her appearance on the red carpet — in her own words, her outfit symbolized fertility. To clearly convey the idea, the singer did not limit herself to the dress but also brought an artificial egg to the ceremony.
She completed the look with a sparkly flesh-colored catsuit and retro sandals.
A Feathered Revolution
The artist believed her appearance at the 2001 Oscars would be her first and last one, which is why she chose such an extravagant outfit. Björk wanted to make fashion history — and she did.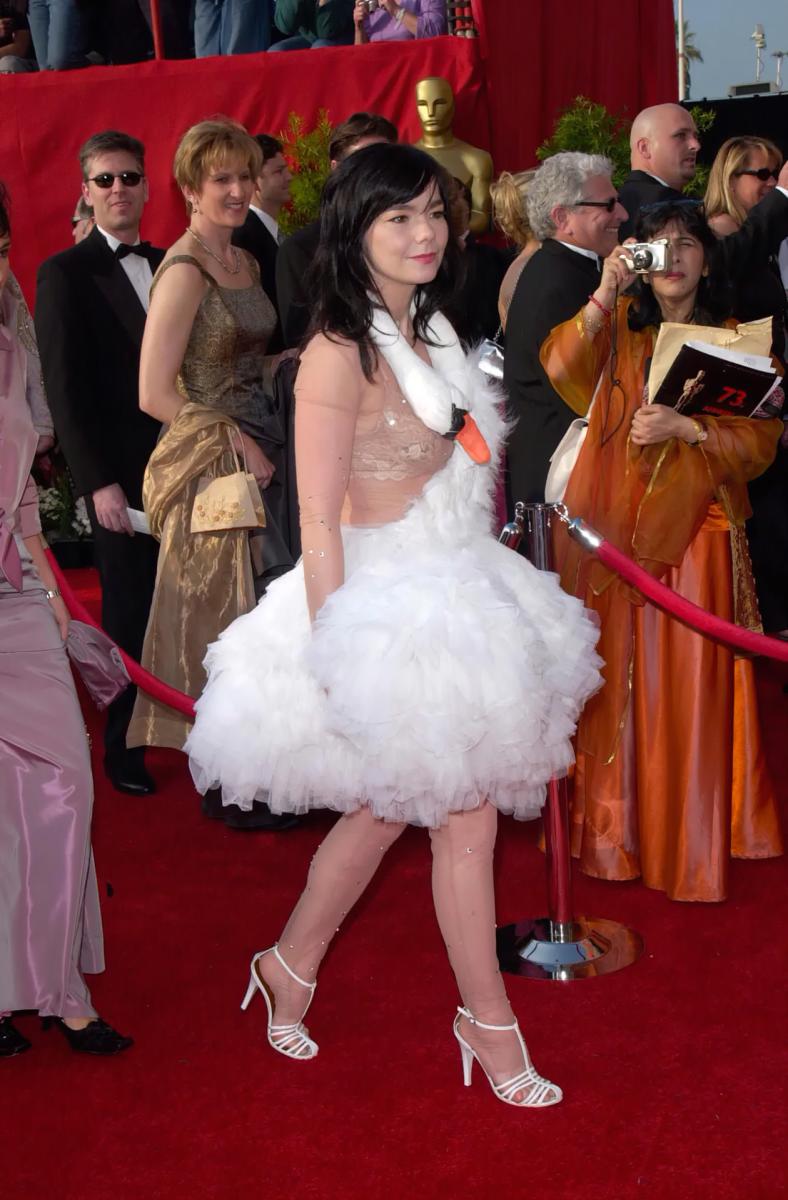 Today at the Oscars, there are as many exciting outfits as at the Met Gala, but in the early noughties, you could still see a few dozen classic bustier dresses on the red carpet. Even bright colors were considered a breakthrough, let alone a swan dress.
Her outfit caused a stir and plenty of negative comments, but Björk didn't care. The singer even put on the white mini again when she was photographed for the cover of her album Vespertine, released in August 2001.
Applauding the singer and her daring choice, we're glad to admit that red carpet fashion has moved away from the classic bustier + monochrome formula. Today, stars are way more creative in their style at the Oscars — and it was Björk who paved the way for them in her swan dress.