You may not be thrilled with the idea of Sex and the City getting a sequel, but let's be honest: we were all waiting for the premiere.
Some of us were looking forward to it because we really missed our favorite characters. For others, it was just a chance to sigh about how we, the viewers and the characters alike, have changed over the years. And while the latter might be true, this shouldn't stop us from enjoying the series' follow-up And Just Like That… because, for one, it gives us an opportunity to indulge in nostalgia — and remember some of the characters' trendy looks.
You may find it surprising that a few of Carrie Bradshaw's iconic garments have "migrated" into the new chapter of her life. These "easter eggs" are a treat for fans and also a positive example for all of us to follow in our daily lives: Carrie's recycling of favorite clothing items is a very eco-friendly practice. Here are some of the character's fashion pieces that received a second life in the show's reboot.
Studded Belt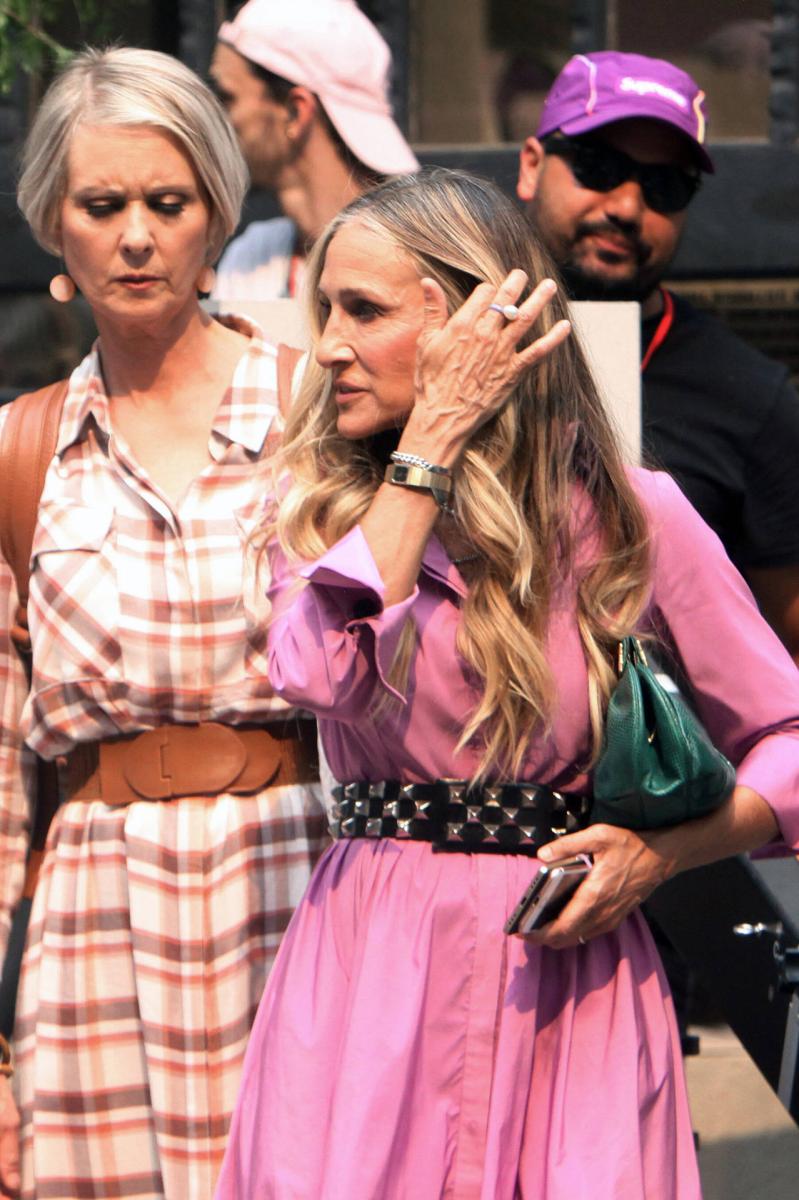 The Streets Ahead black studded belt is one of Carrie Bradshaw's favorite accessories.
In the 2008 feature film, she wore it with three different outfits, including over a fur coat. In the sequel, the garment is paired with a bright pink shirt dress and black stiletto pumps. The resulting look is almost a copy of one of Carrie's images from the movie — only this time, the dress' silhouette is more voluminous and modern.
Fendi Baguette Bag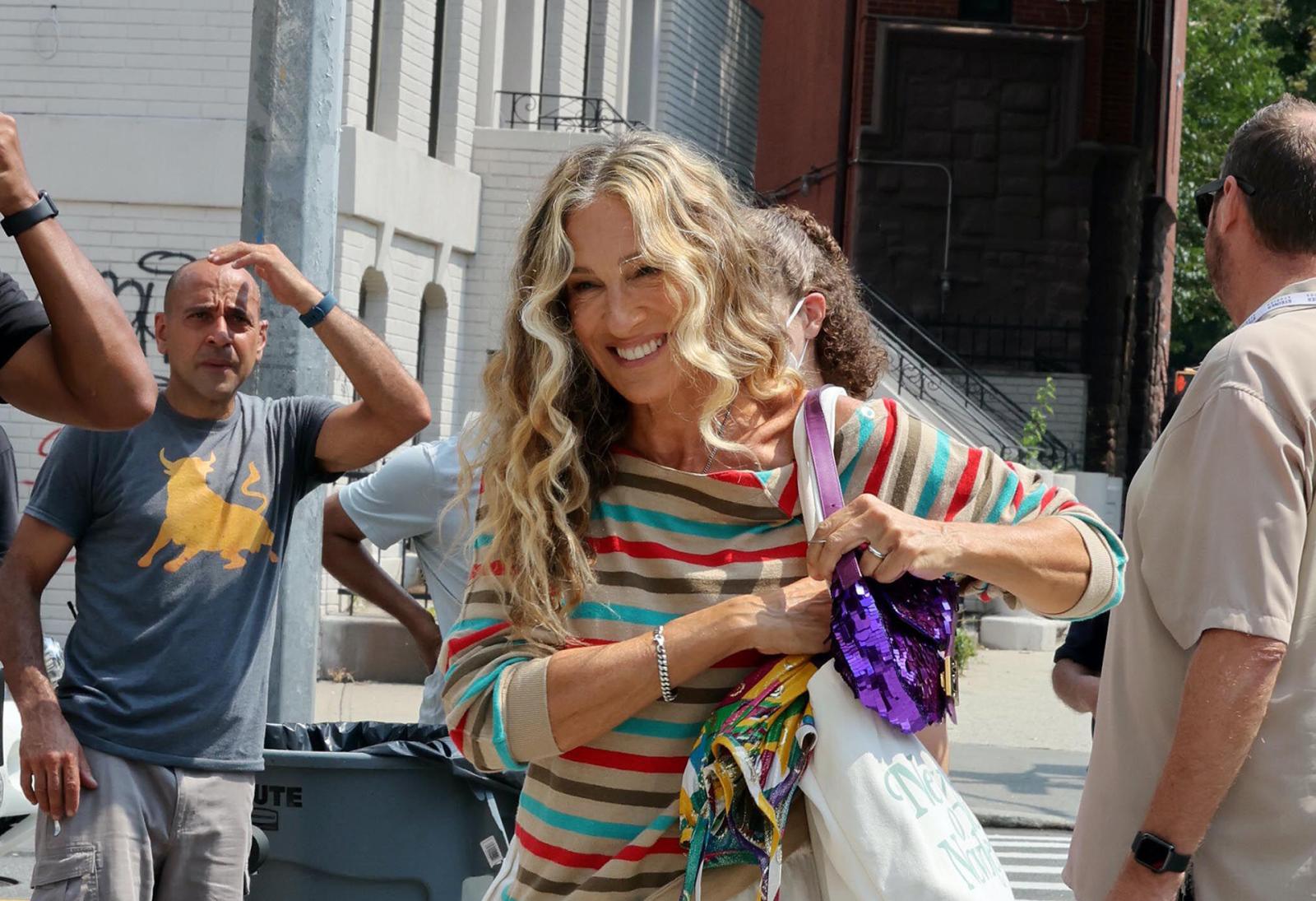 "It's not a bag, it's a Baguette!" shouted Carrie when a mugger tried to get her purse in season three, episode 17.
Indeed, the Fendi Baguette is not any regular bag for Carrie: judging by the number of times it appeared in different episodes of the show, it is undoubtedly one of the favorite accessories of the trendy New Yorker. Besides, Bradshaw has multiple Baguettes in various colors. Funny enough, the bag that was stolen in season three was featured again in the sequel, embellished with large sequins of a rich purple hue.
Manolo Blahnik Hangisi Shoes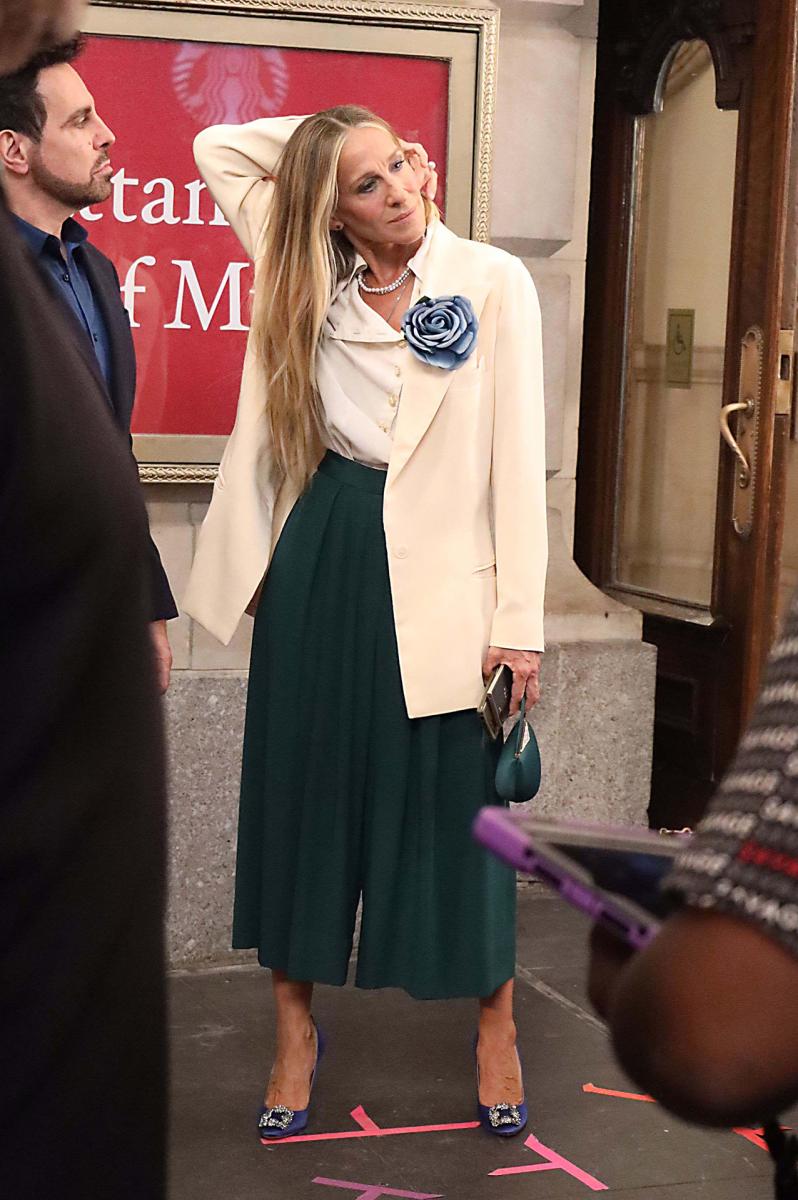 A true fan knows exactly what Carrie Bradshaw's favorite shoe brand is: it's Manolo Blahnik, of course! The shoes are associated with two very important moments in Carrie's biography: first, Mr. Big proposed to her by putting a Hangisi shoe on her foot, and then she married the man wearing the same pair.
Not surprisingly, these very shoes of a saturated blue shade appear again in the sequel: this time, they're accompanied with a cream "man's cut" jacket and emerald culottes.
White Chanel Ankle Boots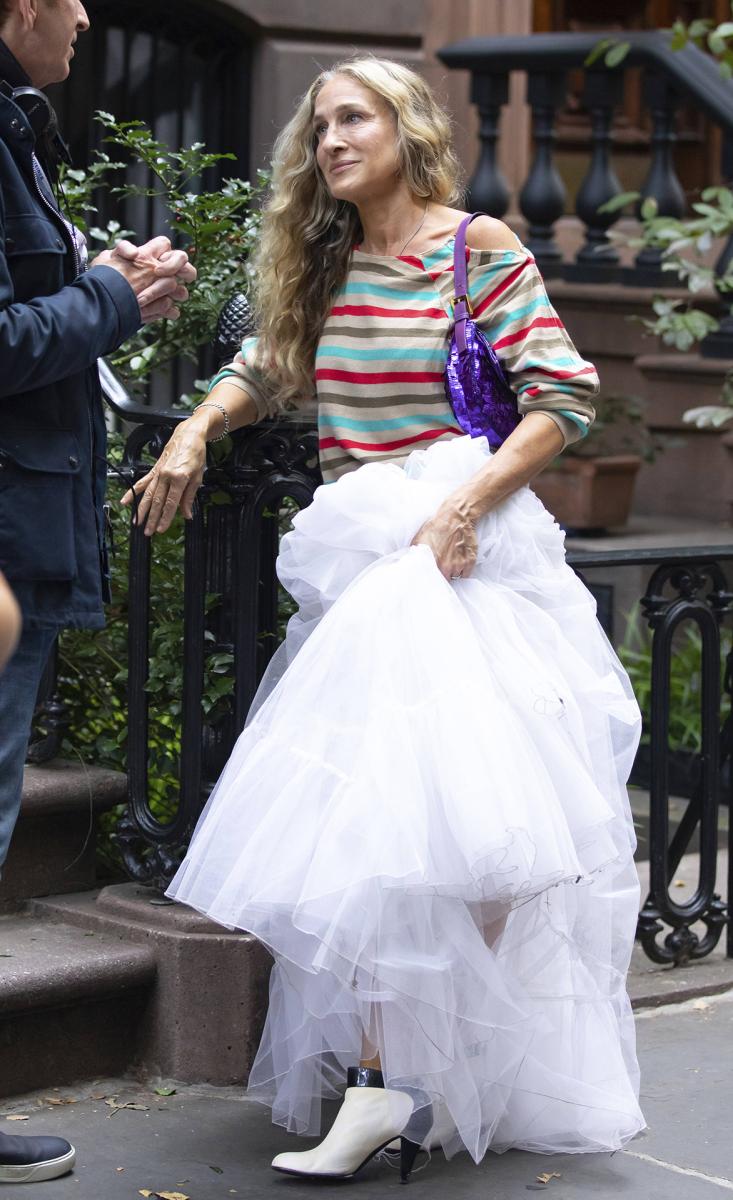 The white Chanel ankle boots with contrasting black heels are perhaps Carrie Bradshaw's most prominent garment in Sex and the City's season six. She wore them on a date with the Russian artist Alexander Petrovsky (played by Mikhail Baryshnikov) and then when she called Miranda from Paris to tell her friend how much she missed her.
Sarah Jessica Parker's character recycles the boots in the series' reboot: her look in And Just Like That… almost reproduces the one from season six, but this time, the shoes are complemented with a puffed white tutu and a striped "rainbow" sweater instead of the red top and black jacket.