Though it's been a long time since the pop singer left the stage, she managed to maintain her superstar status.
This is not surprising since Britney Spears is a true icon, both in the music industry and the world of fashion. Donatella Versace admired the singer's talent for wearing couture outfits like no one else — and looking fire hot in them.
Delving into Spears' archival photos, we're saddened to find that her latest fashion appearances only date back to 2018 — but even then, the singer was already lacking in confidence and didn't stun the way she once did. We all hope that Britney will return to her music career and make more fashion statements soon. Now, let's take a look back at some of Spears' mind-blowing appearances in designer outfits.
The word "mind-blowing" is key here: the singer sometimes failed to look appropriate, but she always managed to impress.
Black and Blonde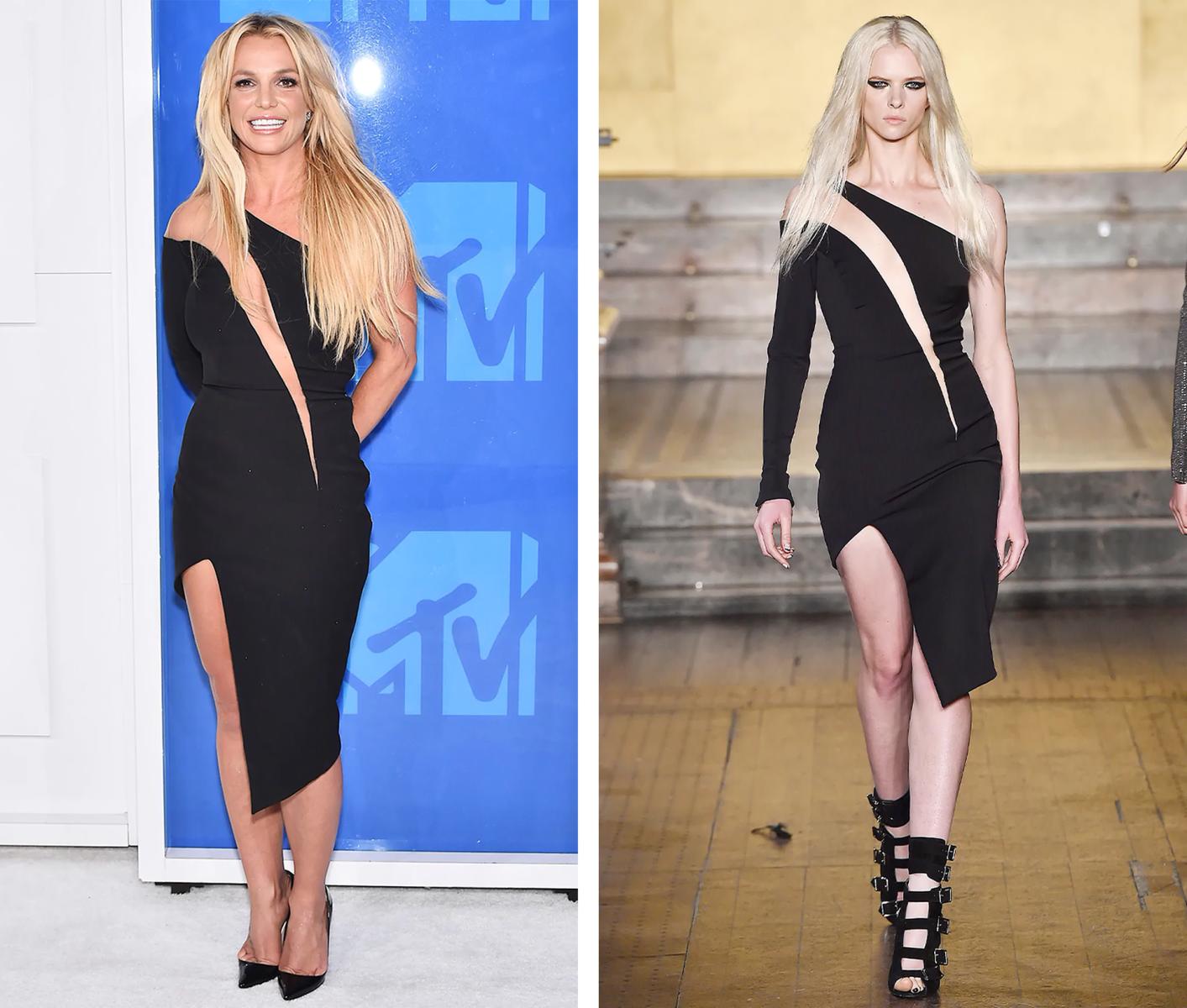 In 2016, Britney attended the MTV Video Music Awards. The singer had always used the event as a platform for controversial performances (remember the snake dance?) and an opportunity to showcase ultra-short tops. But times changed, and the star came to prefer elegant gowns to provocative bodices. The dress by the Welsh designer looks exceptionally great on Britney — no wonder she put it on more than once.
An Unchildish Choice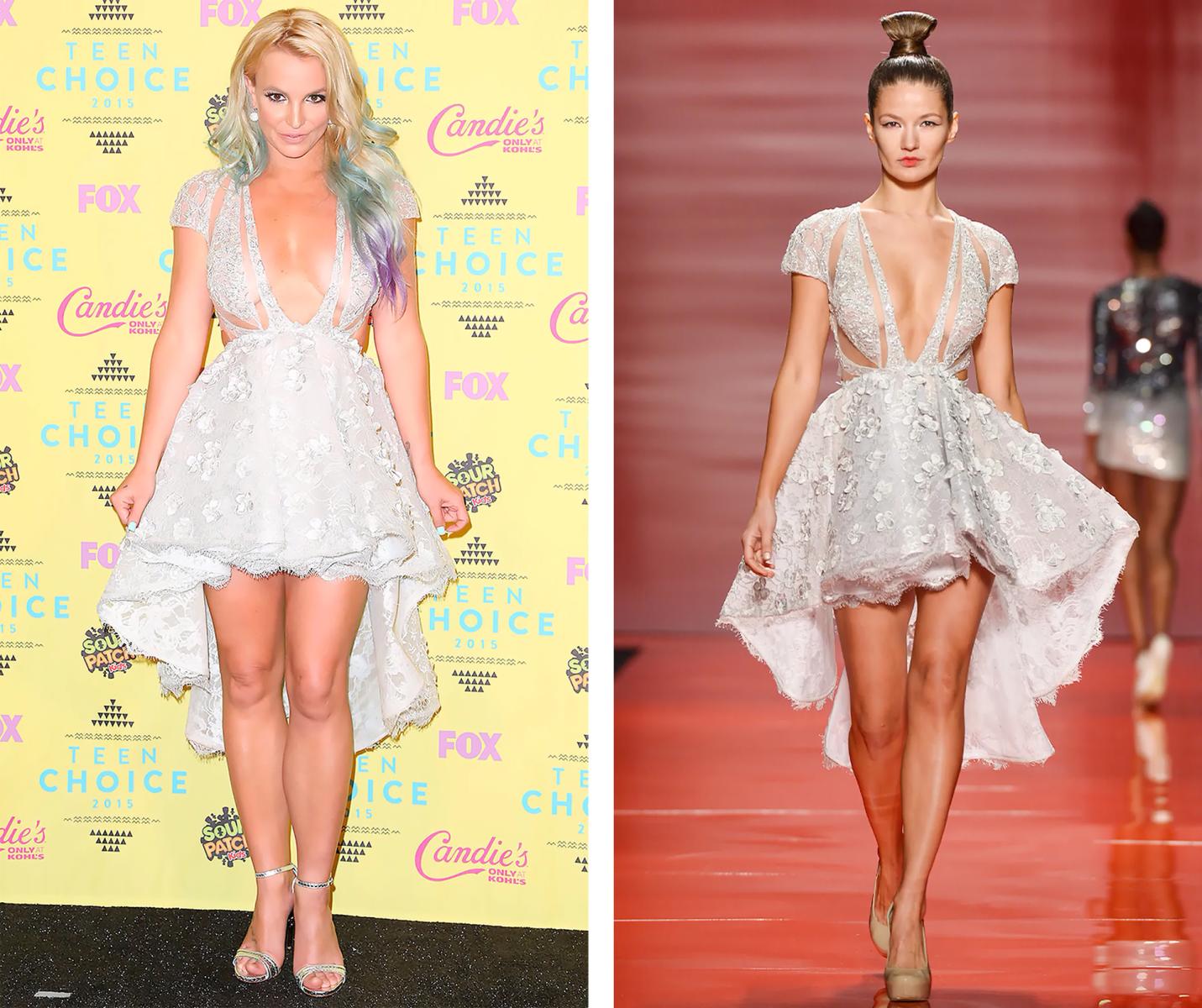 At the Teen Choice Awards, Britney Spears has always been the epitome of cuteness. The star would usually go for pink dresses and thin sandals — though not this time. For the 2015 awards ceremony, Britney decided to shed a few years off by dying her hair rainbow colors and wearing an open Mikael D dress. The outfit looked a little out of sync with Britney's plump figure. It surely was hot — but not entirely appropriate for a Teen Awards night.
Modesty Itself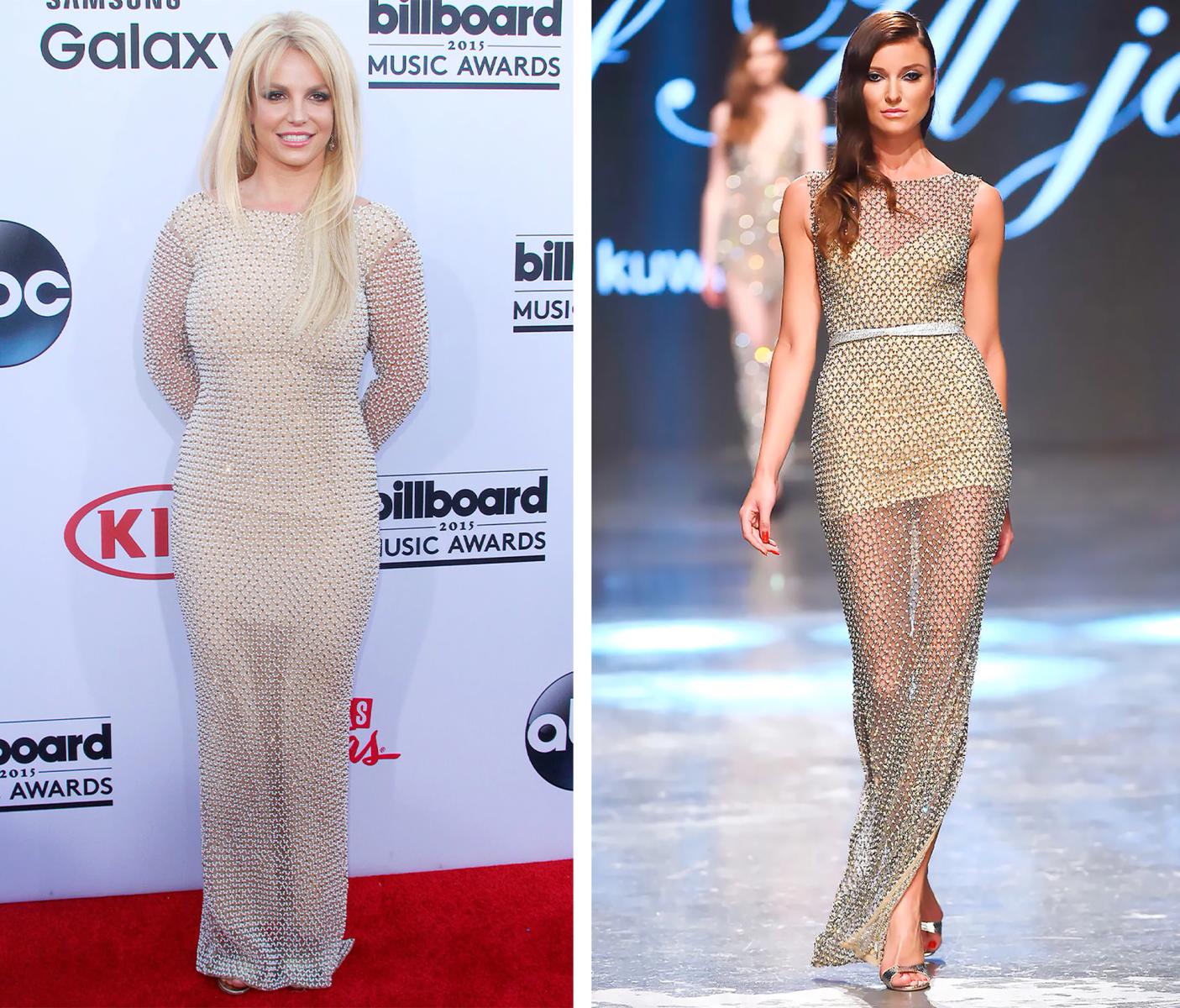 And then where a little spice wouldn't hurt, Brit chose the most modest attire. At the 2015 Billboard Music Awards in Las Vegas, the star wore a fishnet dress by Yousef Al-Jasmi, complemented with a matching undershirt. It turned out elegant and expensive but very different from the original runway version.
The Battle of the Stars
Let's admit it: this is one of our favorite Spears' looks. Atelier Versace dresses were Britney's go-to in the 2000s, and the singer was often captured wearing them for events. Charlize Theron also fell in love with the Versace collection, but the actress made the right choice and put on the maxi length — unlike Spears. We couldn't help but to place the stars next to each other — and declare them both winners in this fashion battle.
Firebird in Roberto Cavalli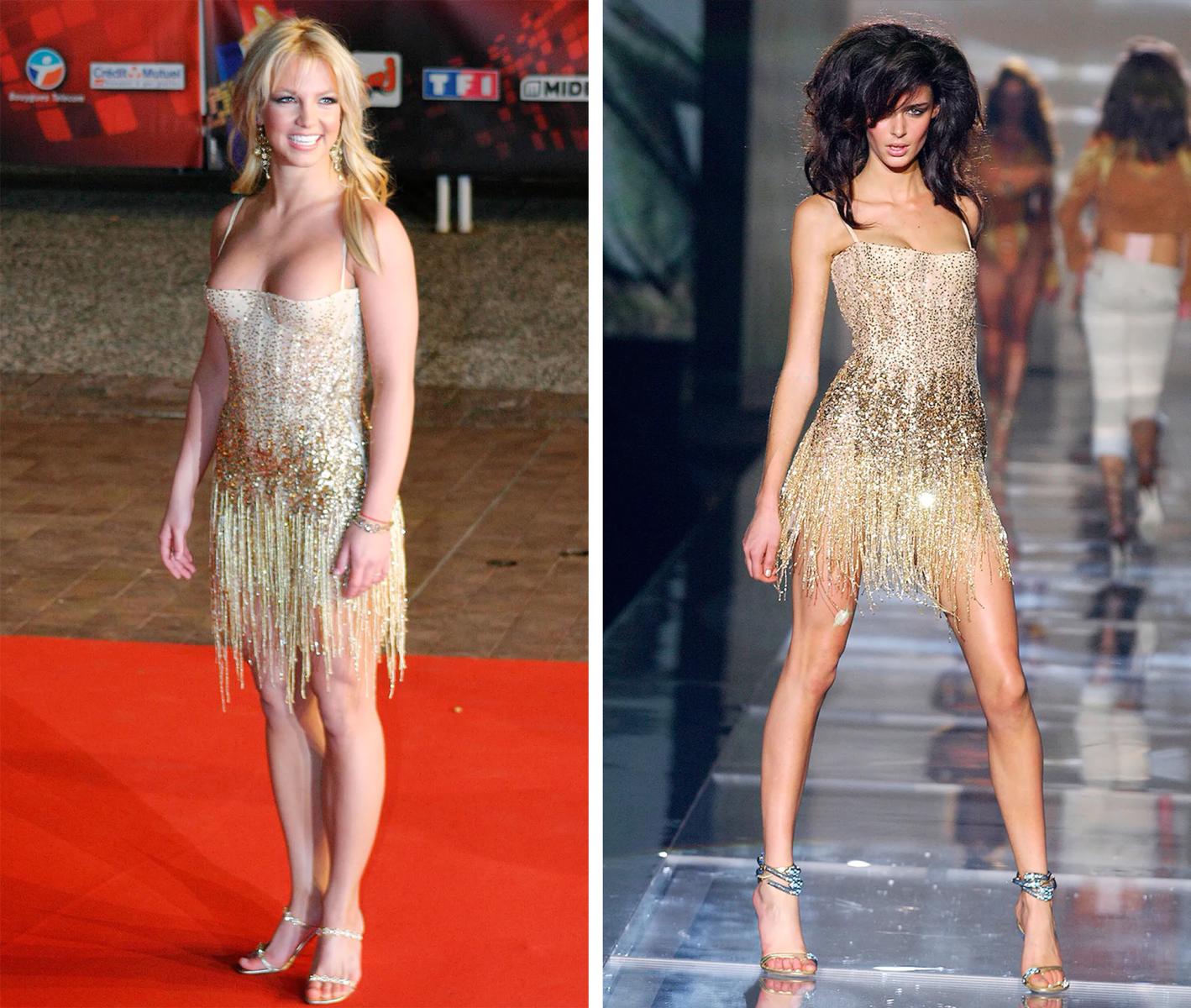 Once upon a time, when Britney Spears was basking in the rays of fame, her iconic colors were silver and gold. These were the colors she chose for the 2004 NRJ Music Awards: the singer wore a sparkling Roberto Cavalli gown. Britney probably doesn't like looking at those photos (she wasn't all that good at posing back then), but her choice of dress was as good as gold.
Sass and Lace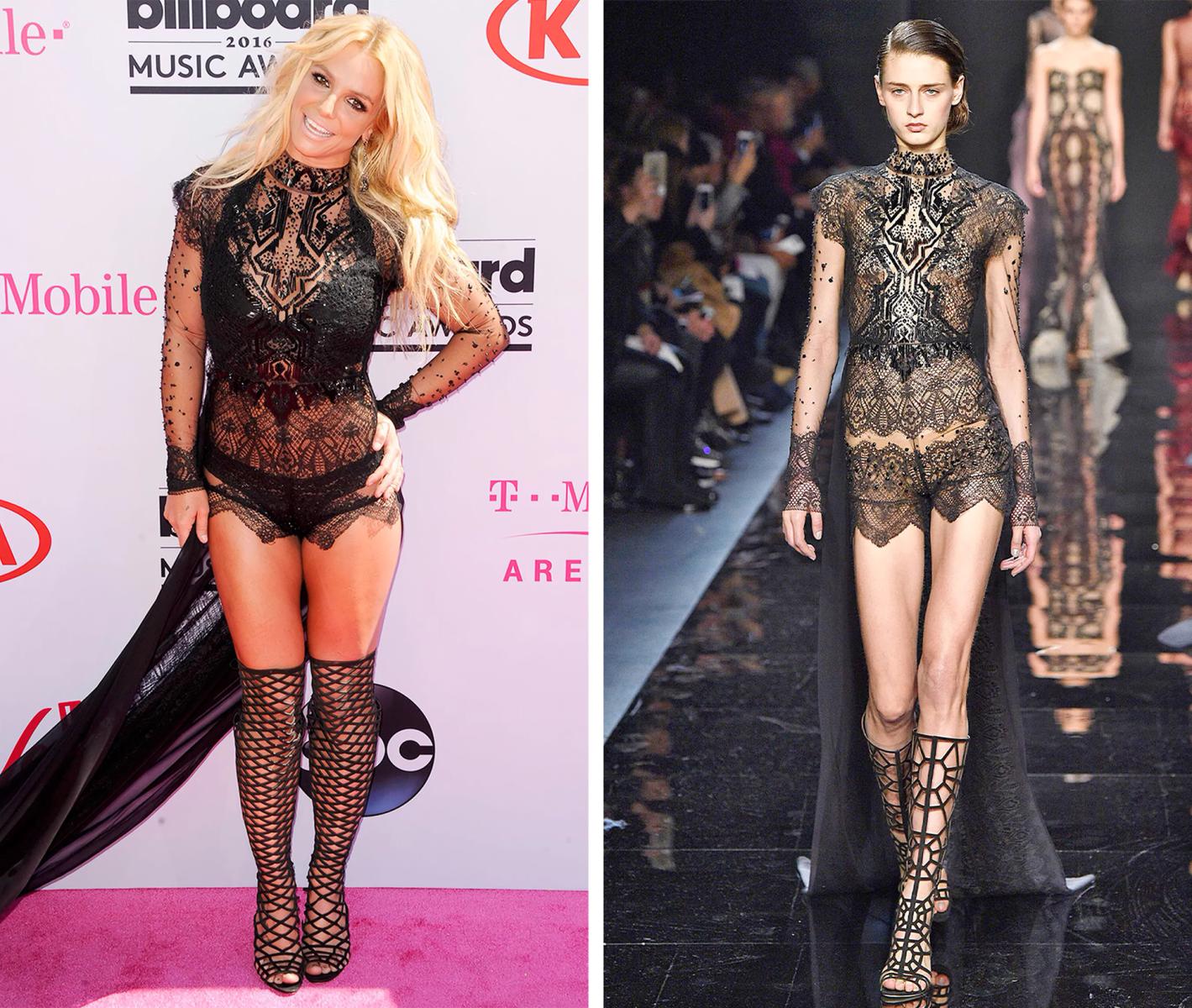 Over the years, Britney has mastered posing for photographs but still hasn't learned to choose appropriate outfits for occasions. The singer has always loved delicate textiles. In 2001, she stunned in a lace Dolce & Gabbana minidress, and years later, Spears decided to repeat that fashion escapade. Reem Acra's subtle, almost fairy-tale outfit looks rather provocative on Brit's curves — and that's probably not what the designer aimed for!